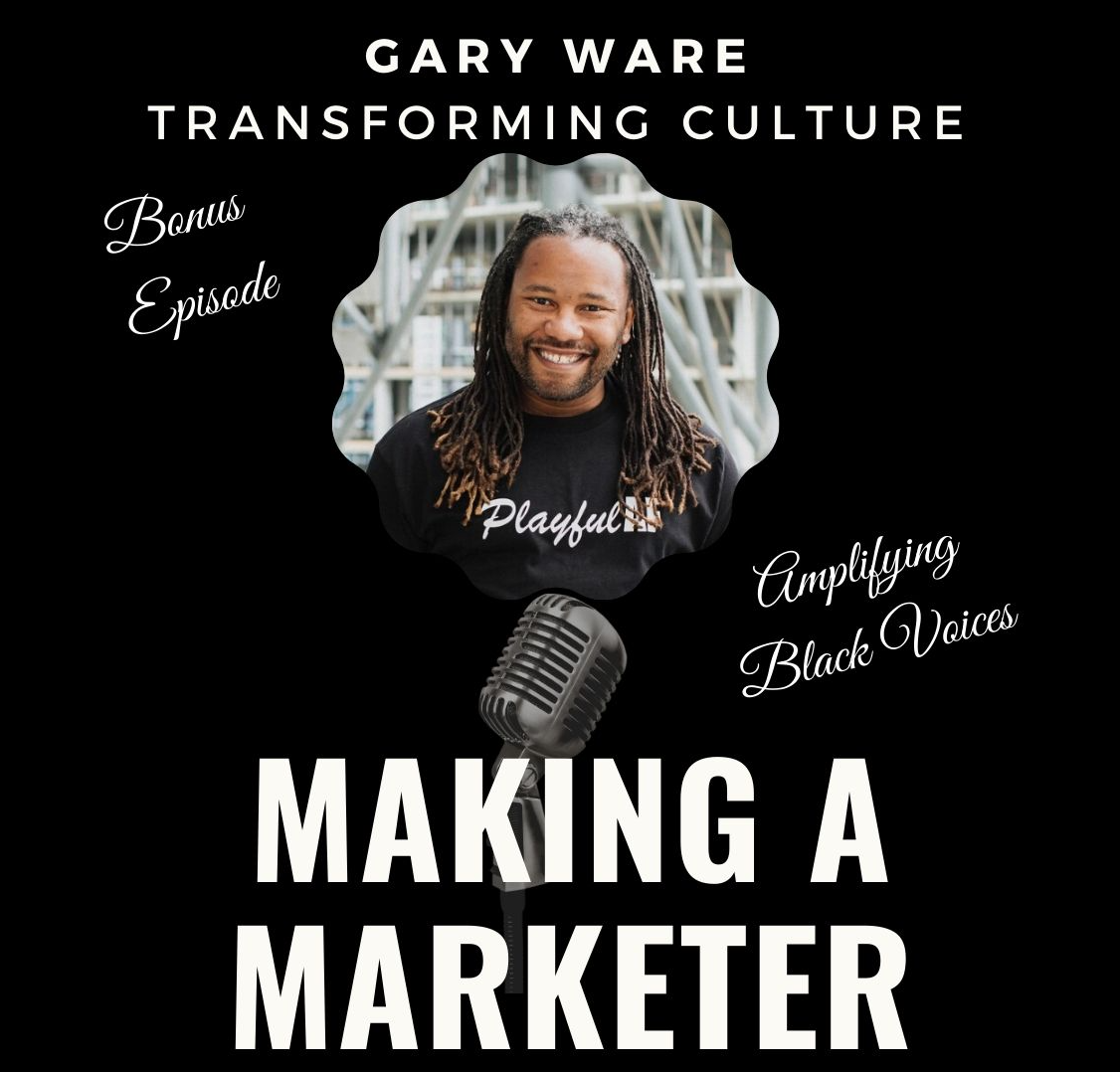 ** BONUS EPISODE SEASON! **
This is the first episode of a handful we're doing this month when we normally take a break. We want to do a couple of things with these shows. The first effort at-hand is to amplify Black voices. We must do better about having a more diverse mix of guests on, and right now it's most important for Black voices to be heard. 
Gary Ware is a special soul, and the perfect person to have on our first summer bonus episode of Making a Marketer. Culture is being transformed on all levels, and it is requiring allies willing to stand up, wherever we are. 
Our guest...
Gary Ware


Creative

Catalyst & Workshop Facilitator and Founder of Breakthrough Play, and a Digital Media Specialist

Gary is a sought-after Corporate Facilitator and Keynote Speaker with nearly a decade of experience as performer in improv theatre. He assists teams with unlocking creativity, confidence, and sparks collaboration with experiential methods proven to drive peak performance.

Gary spent over a decade in the corporate world and originally pursued improv to master public speaking. He quickly discovered that combining improv and play could be a powerful solution to achieve various business challenges. 

If you are interested in an experiential team-building workshop for your team--reach out to him.
Helping companies make transformations through PLAY -- how cool is that?! Gary Ware is also a TEDx speaker - check it out. And he's helping to head up a San Diego chapter of Culture First. Culture First is an organization created to help "a group of leaders, practitioners, and change agents committed to amplifying what people are capable of being and achieving at work."
As we move forward with the podcast, the Black Lives Matter movement will not be "the" subject, but we will make a conscious effort to have more Black people and other people of color on the show. We will also do some shows on marketing in the cannabis industry - a topic so popular, we just have to (episode 26 from November of 2018 is the second most downloaded episode of the past two years so far)! Next up: Kendra Losee talking about Marketing CBD as we record on Facebook LIVE. 
We hope you enjoy the BONUS content, and we'd love your feedback on who and what you'd like in the show.
 
We are "Making a Marketer"... in all ways. Check out EPISODE 59 -- and please take a minute to subscribe, rate, & review us on iTunes -- https://bit.ly/mamITuneNEW. Get each ep. when it drops!
::: This episode is sponsored by Powers of Marketing - emPOWERing strategic communication :::