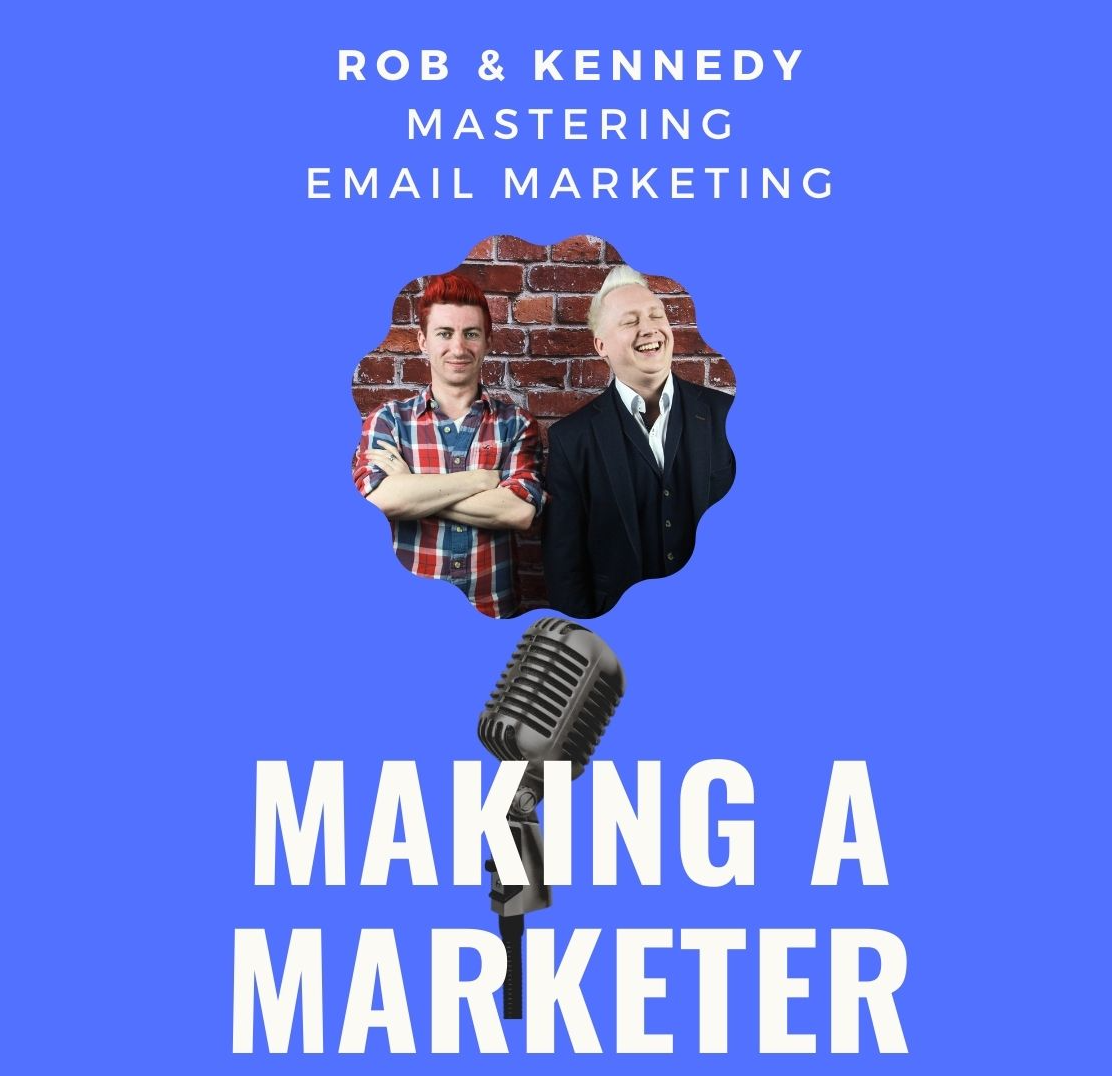 Y'all, email marketing is no joke. Social media is important, but it's rented land, which you'll hear about straight-away. Rob and Kennedy are our guests on this episode -- two guys who are epic and successful in their individual spaces who carved out a niche (which they would pronounce NEESH, since they're British!) in email marketing because they had so much success with it.
Email marketing is about making sure people have all the information they need for WHEN they want to buy... we should be using email to nurture those relationships.
Our guests...
Rob & Kennedy are from Newcastle Upon Tyne in the North east of England

You might know them as hosts of the very entertaining podcast, The Email Marketing Show, or as the founders of the survey platform that makes you sales, ResponseSuite.

Red-haired Rob is a comedy stage hypnotist, and platinum-haired Kennedy a psychological mind reader (or mentalist as they call it in the US), who have spent almost 18 years each relying on their skills of getting into other people's heads to carve out successful careers in show-business.

Now as founders of EmailMarketingHeroes.com, Rob and Kennedy's mission is to save the world from that grubby old-fashioned email marketing we've all grown to loathe, and give others the tools to become the Email Marketing Heroes in their small businesses.

Rob and Kennedy are here to help you make more sales and grow your business by sending more emails that people love receiving.
Goal stated by Kennedy: "Let's try to become less crap than we were yesterday."
My absolute favorite tips were about the subject line and the preview bits! I'm not going to tell you why... when you listen you'll know the reason.
For sure, this is one of our most resourceful episodes yet. Email marketing has been bumped off for social media, but it's unquestionably more important. Megan used to "do email" (no, seriously, she got hired by a dot-com without a title)... and this chat was so enlightening! Things. Have. Changed.
"You're the only person who looks at 100% of your content."
Check out the #EmailHour Twitter Chat: Thursdays at 12pm PDT / 8pm UK
Their podcast is the Email Marketing Show: Every Wednesday
We are "Making a Marketer"... in all ways. Check out EPISODE 66 -- and please take a minute to subscribe, rate, & review us on iTunes & get each ep. when it drops!
::: This episode is sponsored by Powers of Marketing - emPOWERing strategic communication :::
** Our NEW show music is provided by our
GIFTED editor, MUSICIAN, Avri.
Check out his recently released ALBUM, Underrated! **