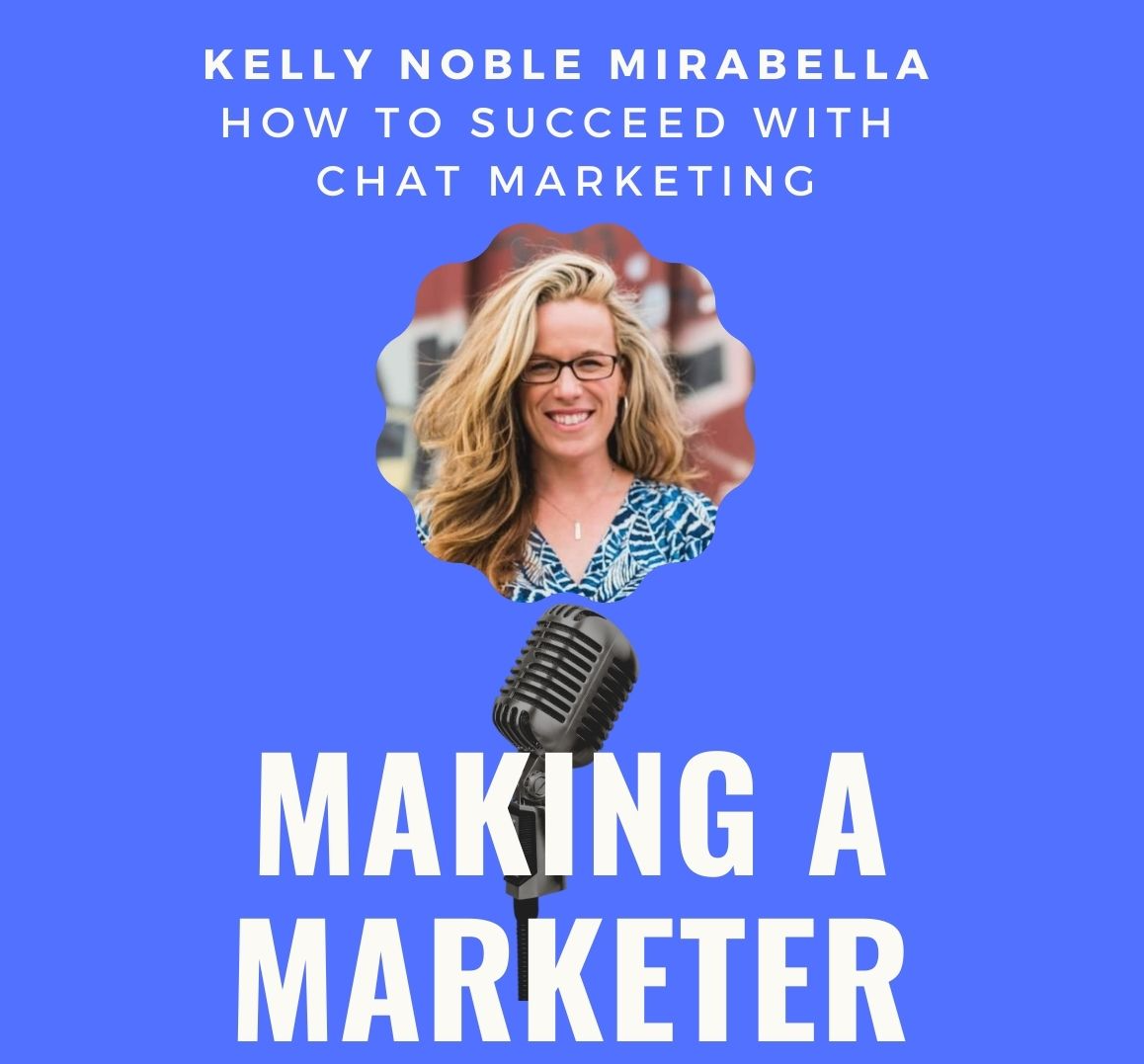 Our guest Kelly Noble Mirabella holds a (long-standing) record -- one of her previous Making a Marketer episodes on chatbots (as of writing this) is the most downloaded all-time! When we realized it goes back to season two in 2018, we knew it was time to have her back.
The options we have in marketing to reach our customers and prospects continues to evolve, as does the capabilities chat marketing provides us.
SO much strategy AND tactics covered on this show! AND, Instagram opened up chat automations the day we recorded, so we get a "hot off the presses" update on the capabilities from Kelly. This is one you WILL replay and you'll quote it if you're having trouble convincing clients to bring chat marketing into their digital marketing plans.
She shares several tools too - you gotta listen to learn what they are to get them all!
Our guest...
Kelly Noble Mirabella 

Kelly is an international speaker and sought after Digital marketing educator with more than 14 years of digital marketing experience. With a flair for fun, Kelly brings her unique and engaging style to her Baby Got Bot training videos and Messenger campaigns. As owner of Stellar Media Marketing, Kelly has worked with some of the best brands in the digital space. Partnering and working with companies like AgoraPulse, Kerwin Rae, Bot Tools and Restream.io, Kelly brings the fun, and a great experience to any project. Kelly is known for creating clear and easy to follow tutorials and guides to help people tackle the world of Messenger Marketing and beyond. Kelly is also the Trainer for ManyChat and a Bot Tools Ambassador.
Kelly's Previous Eps.:
Episode 23: AI Chatbots
Episode 16: Live Streaming, along with guest Chris Strub
Her book reco: The YouTube Formula by Derral Eves
Discount time! Kelly's ManyChat PRO Discount code: Kellyfreemonth
We are "Making a Marketer"... in all ways. Check out episode 82 -- and please take a minute to subscribe, rate, & review us on iTunes & get each ep. when it drops!
::: This episode is sponsored by Powers of Marketing - emPOWERing strategic communication :::
** Our NEW show music is provided by our
GIFTED editor, MUSICIAN, Avri.
Check out his song, "Too Close"! **