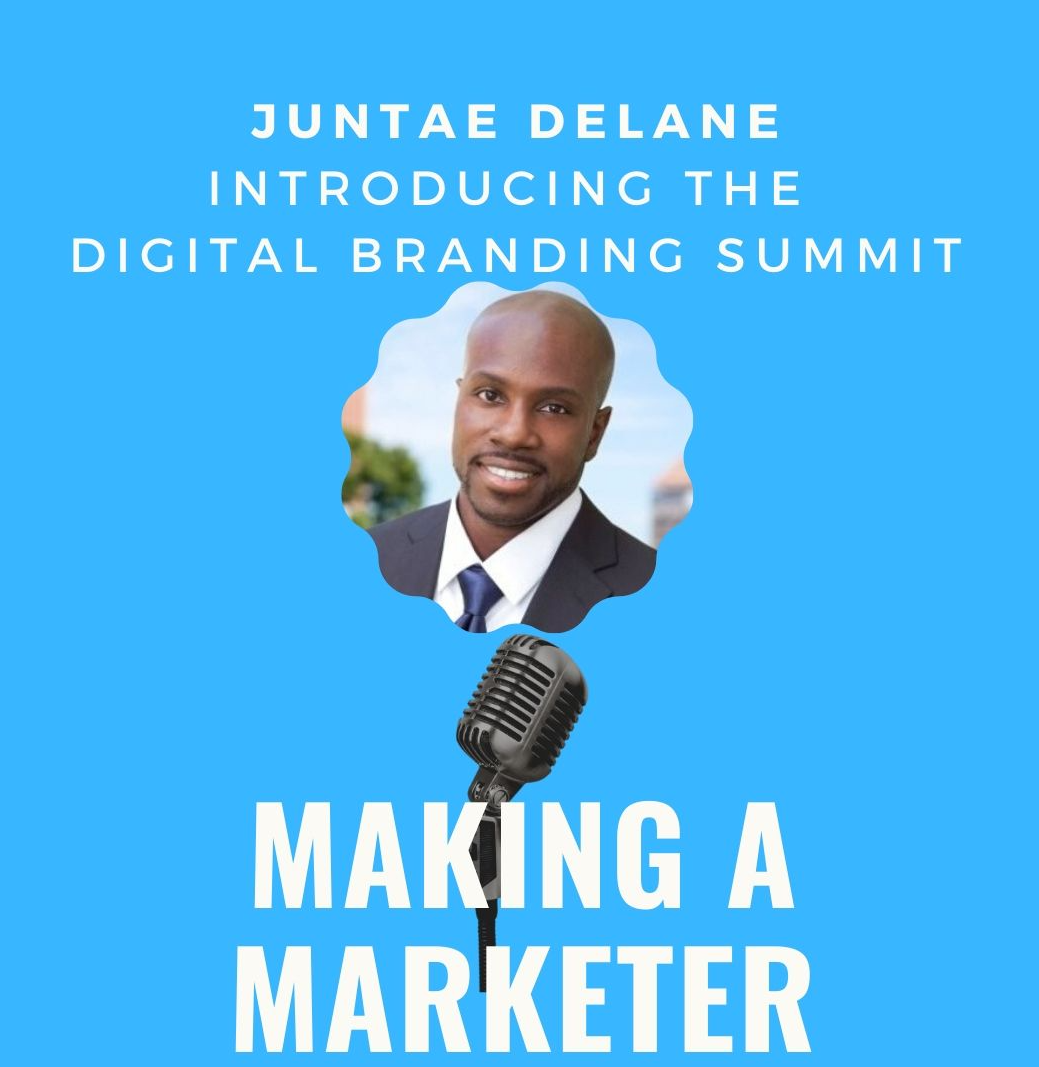 Making a Marketer episode 47 guest is Juntae DeLane, Founder of the Digital Branding Institute. DBI is holding The Digital Branding Summit Jan. 27-31-- the first online conference exclusively dedicated to digital branding. The 50 speakers are a mix of industry insiders, brand leaders, influencers, practitioners, and thought-leaders who will teach you how to grow your brand and your business.
On this LIVE episode we preview what to expect & why you should register (or check out the next one if you've missed the window)!
Our guest...
Juntae DeLane
Digital Branding Institute's Digital Branding Summit
Digital Branding Evangelist | Keynote Speaker | Blogger | Innovator


Juntae DeLane is the founder of the Digital Branding Institute, a global hub for digital branding resources, education, and training. He is the Sr. Digital Brand Manager for the University of Southern California where he leads a team responsible for developing, managing, and measuring digital marketing initiatives. He's also the principal consultant and strategist for DIGITAL DELANE, a digital branding consultancy that helps organizations build a strong digital brand.

With his Digital Branding Institute, he's also the founder of the Digital Branding Summit.
In addition to discussing this very exciting online Summit and all that goes with it - 50 premier presenters! The DBI team will be weaving interesting things through the content to tie sessions together, in addition to offering online panels with groups of presenters from the day. Attendance is free unless you want to pay a nominal fee, and then you get expanded access.
Juntae and Megan also discuss some emerging tech and how marketers need to not "ruin it" as we often do. Can you guess what it is?
If you'd like to check out the video, you can do that also - Episode 47 YouTube video.
We are "Making a Marketer"... in all ways. Check out episode 47 -- and if you're so inclined, we would love for you to subscribe, rate, & review us on iTunes -- https://bit.ly/mamITuneNEW.
::: This episode is sponsored by Powers of Marketing - your communication should be strategic and POWERful :::