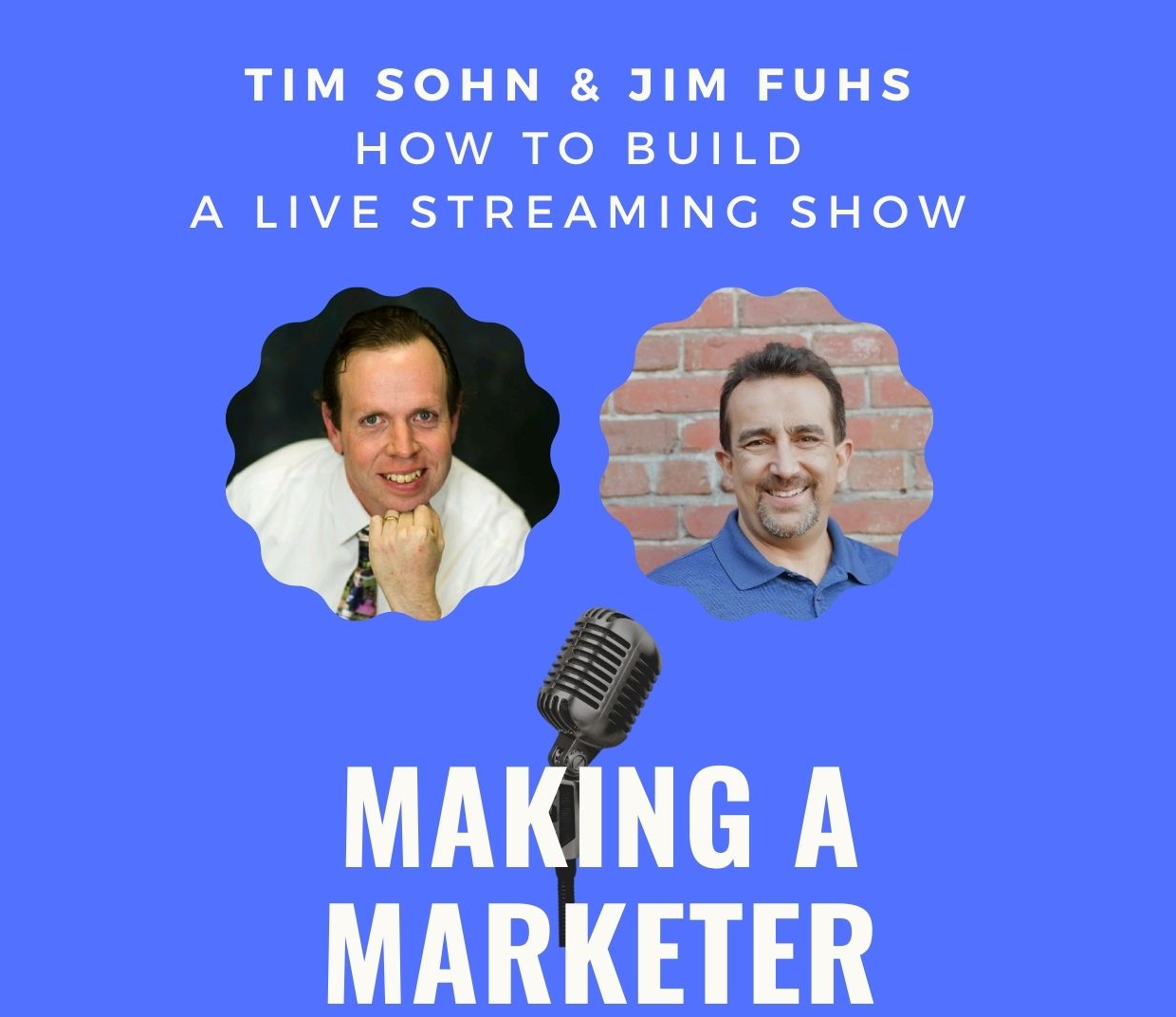 Tim Sohn and Jim Fuhs are P.R.O.s at livestreaming! They were the perfect people to talk with about current trends and strategies for creating a livestreaming show in this VIDEO age.
We both use StreamYard to do our livestreaming shows, and we talk about other tools you can use, right along with StreamYard. 
Building community. Those two little words pack a HUGE punch. This is a big takeaway from this episode -- livestreaming enables you to share your message in a very personal way, and engage with your audience in a way you cannot do otherwise.
Our guests...
Tim Sohn
Founder of Sohn Social Media Solutions, Tim plans and produces memorable virtual events & live shows for businesses & organizations that want to make a bigger impact in the world. He is also co-host of two live shows - The Tim & Jim Show & coffee & donuts. He loves Dunkin' & his family, not necessarily in that order.
Jim Fuhs


President of Fuhsion Marketing of Marietta, GA. Jim is a retired Marine LtCol turned digital marketing consultant, speaker, live streamer, podcaster, and remote live stream and virtual event producer with over 30 years of business and social media experience. His business serves several diverse clients including small business, nonprofits, higher education, and local non-governmental and governmental organizations.

Jim fuses Marine Corps Leadership with Marketing. His 20 plus years of highly successful leadership experience as a Marine Corps officer lets him bring that to bear in the ever changing world of marketing and technology.
Get online with your clients and prospects
and build that community.
We are "Making a Marketer"... in all ways. Check out EPISODE 69 -- and please take a minute to subscribe, rate, & review us on iTunes & get each ep. when it drops!
::: This episode is sponsored by Powers of Marketing - emPOWERing strategic communication :::
** Our NEW show music is provided by our
GIFTED editor, MUSICIAN, Avri.
Check out his recently released song, "Too Close"! **